Anza Borrego

Desert State Park

Wolf's Vision

Nature Photography

Anza Borrego Desert State Park in California is reported to be one of the premier places in the country to view wildflowers.  Our trip there, however, happened to be in August when it was 113 degrees and hazy.  A very interesting place at any time.

The photos on the website are the property of Brian Wolf. No saving or copying is permitted.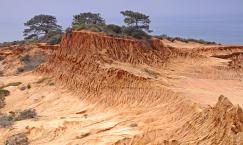 Click on Thumbnails to Enlarge.

To purchase a print of any photo, get the name of the photo you want and go to: